24Jul 2014
16:28 - By Administrator - Publications
Giorgio Shani (2014) Religion, Identity and Human Security (Abingdon, Oxon: Routledge) ISBN: 978-0-415-50906-0.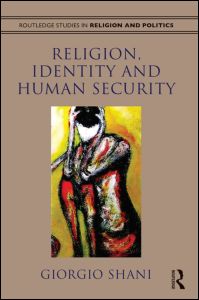 http://www.routledge.com/books/details/9780415509060/
Description
Religion, Identity and Human Security attempts to articulate a 'post-secular' approach to Human Security suited to a globalizing and increasingly post-Western world. It is divided into two sections. The first section provides the theoretical framework for re-conceptualizing Critical Human Security along post-secular lines. The second attempts to apply this framework to three sites of insecurity: the EU, South Asia and Japan. It will primarily be of interest to students of International Relations, Critical Security Studies and Religion and Politics.
Contents
Part I: Reconceptualizing Human Security in a Post-Secular Age, 1. Globalization and Identity After the Financial Crisis, 2. Provincializing Post-Secularism, 3. Re-conceptualizing Security: Towards a Critical Human Security Paradigm? 4. De-Secularizing Human Security, Part II: Sites of Human Insecurity, 5. Emancipating Zoe: The Securitization of the Veil in France, 6. Sarva Dharma Sambhava: Religion and Human In/Security in South Asia 7. Tabunka Kyōsei ? Ethno-Nationalism and Human Insecurity in Japan, Conclusion: To be Human is not to be resilient.